Magnetic Card Holders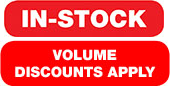 FOB: East Coast Warehouse

Insertable magnetic "C" channel design allows for labels to be changed simply by re-marking the paper insert, or repositioning the magnet.
Great for racks, shelves, bins, drawers and more.
25 per package
If you need a large quantity of this product, call us at 1-800-338-1382 for additional bulk discounts!