HOL-DEX Permanent Self-Adhesive Label Holders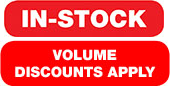 FOB: East Coast Warehouse
White Paper Inserts Included

Colors: Clear. Red, Green, Blue or Yellow also available.
Non-glare finish is bar code compatible
Can be trimmed to exact size on location
12 per package
If you need a large quantity of this product, call us at 1-800-338-1382 for additional bulk discounts!